Summer Activities
Swimming Pool

Hours of Operation:
Monday thru Sunday

Lifeguards on Duty from:
12 Noon to 7:30pm

Somerby Golf Club offers an outdoor, heated swimming pool with an ample sunning deck. The pool opens annually on Memorial Day weekend, and closes on Labor Day.

The pool area also includes a wading pool for youngsters, slide, lockers, children's pool cabanas, and pool side dining.

The Aquatic Director, along with a full staff of certified lifeguards, provides safety assurances for our swimmers. Instructors are available for semi-private and group lessons for all ages.

Pool Guest Fee is $5 per guest Friday - Sunday and on Holidays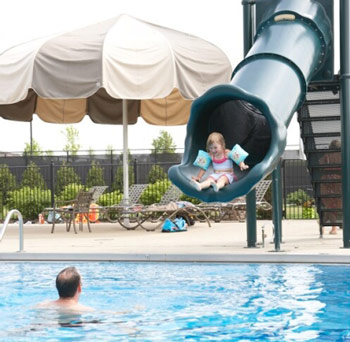 2017 Sea Dragons
Practice Information:
First practice is June 19th
Swim practice is Monday through Friday from 10:40am-11:40am at the Somerby Pool.
Practice is cancelled in cases of thunder, lightning, and heavy rainfall. In case of inclement weather, practice will be cancelled by way of email by 10:00am.
The swimmers need to make three of the five days of practice each week!
Pricing
Cost is $150.00 per child. This includes all the practices and meets, swimsuit, swim cap, T-Shirt, awards, and banquet. It will be charged to your member account.
Swim Meet Information
There will be four regular season meets on Monday Evenings (schedule TBD).
Meets start at 6:00pm and can last until 9:00pm.
These meets are hosted by outdoor area pools including Kasson, Somerby, St. Charles, Dodge Center, West Concord, and Stewartville.
The Championship Meet is on one of the first Saturdays in August.
Coach Information: Jesse Lewis
He is excited to join the Somerby Swim team. Jesse is currently the Head Coach for Med City Aquatics. Previously, he spent six years as Head Age Group Coach for the Shaker Sharks (Shaker Heights, OH) and Pool Director/Head Coach at The Country Club (Pepper Pike, OH). Jesse graduated from and swam for Walsh Jesuit High School and Saint Louis University. Outside of the pool, Jesse is a classic rock aficionado, enjoys wearing belt buckles, and is a proud part-owner of the Green Bay Packers.
Click here for registration information.

Contact Tracy Coshenet with any questions by email or call 507.775.3733.




2017 Swim School
Somerby will be offering Swim Lessons through the Red Cross. Lessons will be taught by Somerby Lifeguards who are Red Cross Certified Water Safety Instructors. There are three preschool lessons and six learn-to-swim lessons focusing on water safety and learning how to swim. Students will have a short skills test on the first day to determine level placement. In case of incliment weather like extreme cold, heavy rain, thunder or lightning, parents will be notified by email before 9:30am. If a lesson is cancelled, there will be a make-up lesson at normal lesson time on Friday.

Classes are 4 days a week (Monday-Thursday) for 2 weeks from 10:00am-10:30am.
June 12 – June 22
July 10 – July 20
July 24 – August 3
If these lesson times do not work for you or you would prefer more individualized lessons, there are private lessons available.

Pricing
Cost for 8 lessons is $70 per child and will be billed directly to your member account.
Click here for registration information.

Contact Tracy Coshenet with any questions by email or call 507.775.3733.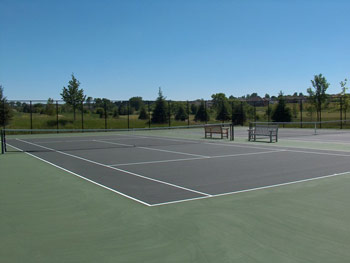 Tennis Courts
Somerby Golf Club also features two hard-surface tennis courts conveniently located near the Clubhouse. The tennis courts are available by reservation from May 1st - October 31st weather permitting. Whether you're looking for a leisurely game of tennis or a competitive match, the courts at Somerby are sure to compliment your style of play.