Health and Wellness
Fitness Center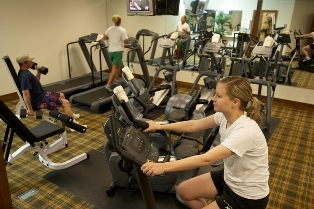 Somerby Golf Club is more than just golf, it includes a modern 1,000 square foot, state-of-the-art fitness center. Equipped with a full array of Precor USA cardiovascular machines, Body Solid weight training equipment, and a complete selection of free weights. Our top-of-the-line equipment is always kept clean, operational, and is user friendly.

In addition to outstanding equipment, our certified personal trainer by Appointment, Shelly Greenfield (507.358.1086) is available to help you reach your goals. She can provide guidance, motivation and one-on-one training for the beginner to seasoned exerciser.
The Fitness Center also includes the Pro Sun tanning system and multiple TV's to keep an eye on your favorite sporting team or today's latest news events.

Massage Therapist
Relax, de-stress and experience ultimate tranquility at Somerby with our on-site professional massage therapist, Paula Rud. Schedule your appointment with Paula today and let all your cares melt away. Ahh!!!

For a personalized quote, or more information, contact Paula Rud, 507.951.2233.